You've done it! After a successful installation of Jira Software, you were able to convince all of your company's teams to move off their old software development methods and start using Jira. It took some major effort to convince the groups that just because "We value individuals and interactions over processes and tools", that does not mean that everyone using the same software development platform would harm the team's unique workflows. The implementation of Jira has also increased most team velocities as they are more easily able to communicate amongst themselves, what is needed to develop a Story within a Sprint. Program management is still not happy however. In many cases, it is still unclear which team is working on what part of the program solution. The Program deadlines keep being pushed back. Large development items (Epics) in the Program which require input from multiple teams and different skills become difficult to get across the finish line. Traditionally, the Project Managers would communicate the milestones needed and simply hound the Scrum Masters and Product Owners until their team's work is done. This required the Scrum Masters and Product Owners to negotiate with each other's deadlines during the Scrum of Scrum Meetings. Perhaps, there is a better way.
Let's say that you now have 5 teams doing Sprints regularly in Jira. Their velocities differ between the teams, but they show greater improvement and predictability between sprints. As the Program Manager, you've been tasked with ensuring large software solutions get completed on time and on budget. These solutions will take multiple Sprints, perhaps many months in some cases to see the full program implemented. How can you use Jira to align the teams to a common program goal?
Here are some Suggestions with Jira Software
Align Sprint Lengths
– The Start and End Dates among Scrum Teams in a Program. If more than one team shares a Jira Project, use enable parallel Sprints.
Enable Parallel Sprints
– If more than one team shares a Jira Project, use enable parallel Sprints.
Create a Program Board
– Create a Board with all of the Teams in a Program (Both Scrum and Kanban). Use Simple: To Do, In Progress, and Done statuses to classify all them by Column on the board so that it's visible for the Program Manager.
Create a Program Dashboard
– Include Sprint Gadgets for each individual team including burndown and velocity charts.
What happens if the number of teams and programs continue to grow? Programs may eventually be large enough that we need to plan several sprints ahead. How can we do this in Jira?
Engage in an Agile Transformation
Tools are not enough for an effective organization to adopt Agile practices. Even if individual scrum teams are well functioning, it can be difficult to get a program to function as a team. An outside consultant tends to make the best Agile Coach. This coach can provide insight without any preconceived bias.
Use a Knowledge Base
Confluence provides an excellent link to Jira. The more content is shared at the Team and Program level in the same place, the easier it is to coordinate which issues to work on in what Sprint with the Teams. Build both Team and Program level Spaces in Confluence to share this information.
Use a diagramming AddOn
The Draw.io diagram AddOn provides a way to draw product roadmaps, team org charts, value streams, and visualize processes. Couple this with Confluence and you have a great way to visually show your program the information they need.
Still need to Scale Up?
Jira Align allows a user to view all of the Sprints for a Program Increment (typically five Sprints). You can view dependencies within different issues among the teams. You can see when an issue is scheduled to be worked on. Jira Align allows you to plan at the Program level and view this work as it allocated at the Team level.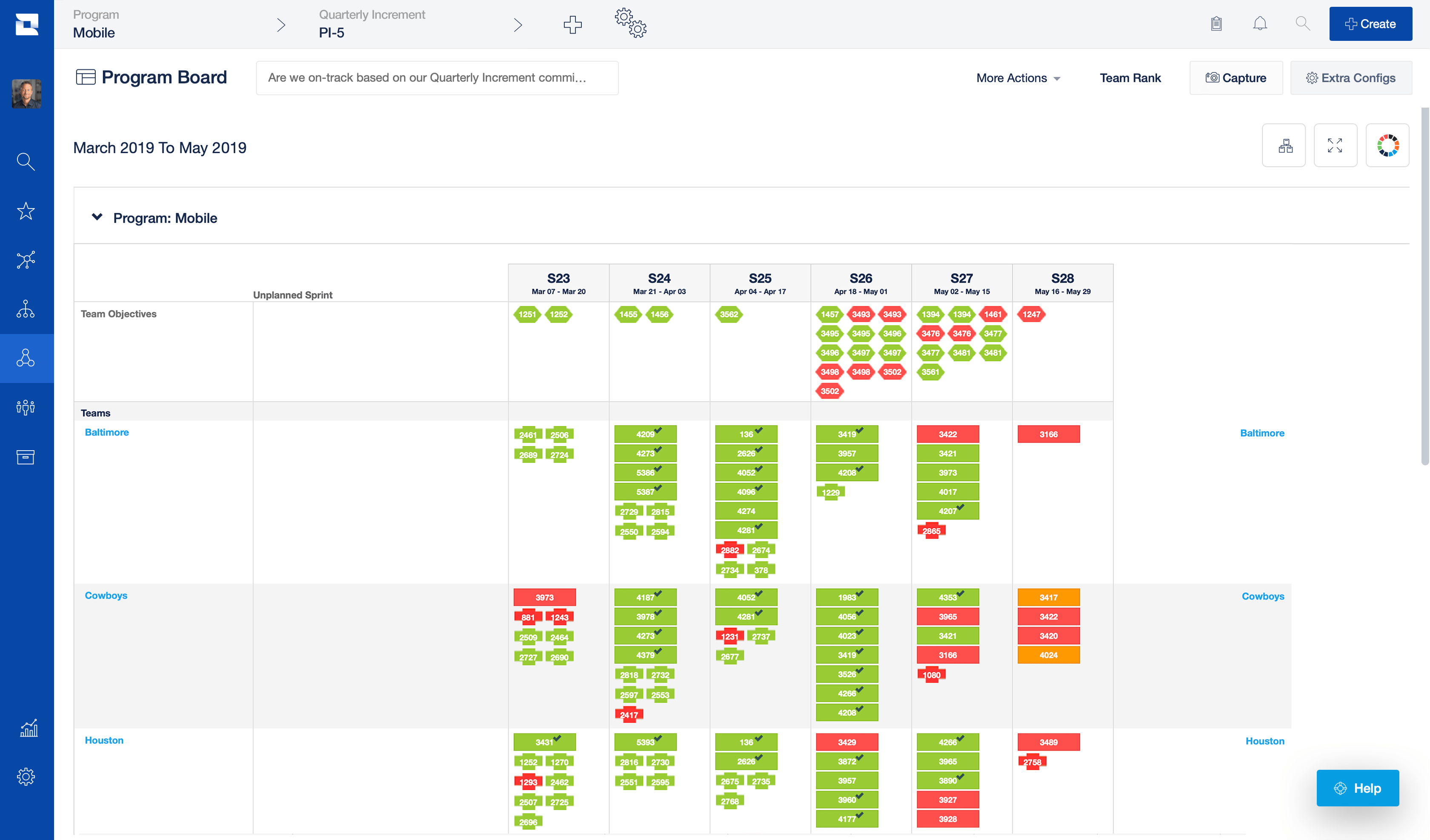 Getting better at Estimation During Sprints
The Planning Poker for Jira AddOn allows teams to vote on point values of issues during Sprint Planning. It allows you to record team member votes, reach consensus, and estimate as a remote team.
Big changes can be needed when a company gets larger in size and complexity. Going from 5 teams to 10 teams to 20 teams will change how teams need to work together. As software products become more complex and developed, more teams will need their input in a large solution. It's important to coordinate between teams and Jira Software can be scaled up as you need it. Contact Ascend Integrated to learn more!