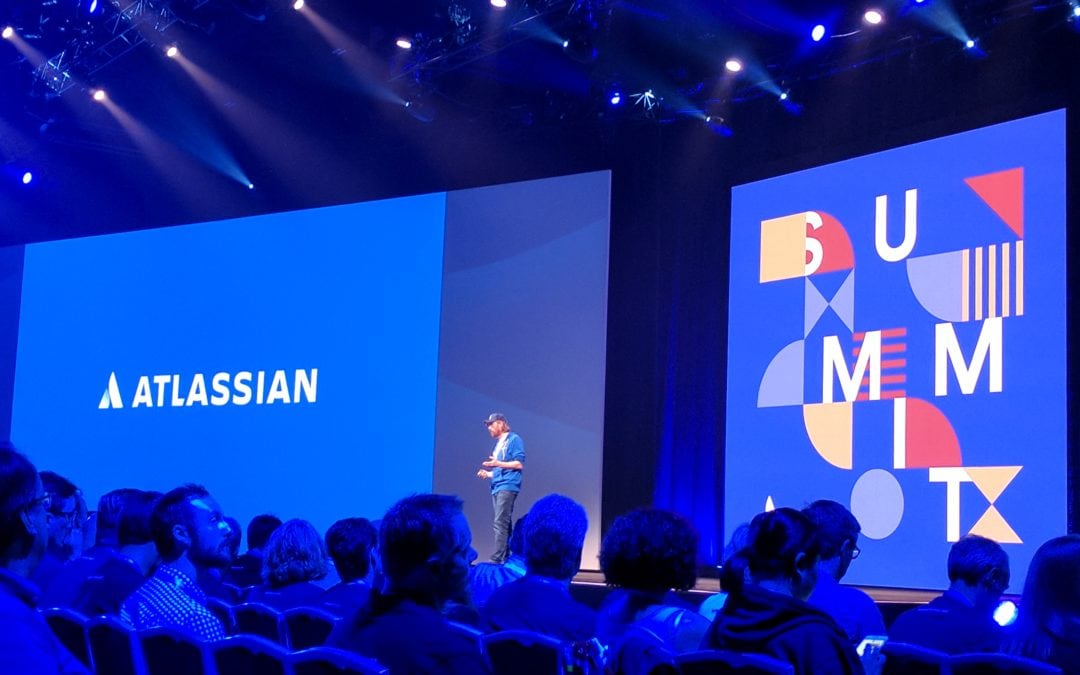 Every year the Atlassian community comes together for a 2 – 4-day long Summit, depending on whether you are a partner, vendor, or a user/developer. This year Ascend Integrated attended the 2017 Summit hosted in San Jose, CA. We wanted to put together some of the cool and interesting features/aspects we observed and attended.
Keynotes
The keynotes were excellent, highlighting the corporate values of the firm but also keeping it lighthearted and the audience engaged and participating. We especially enjoyed the smoothly bit. The keynotes introduced new integrations between Trello and Bitbucket, Stride, and support for Microsoft Azure. Check out the keynote: 
here
.
1% Pledge
The 1% pledge allows companies and individuals to give back 1% of profits / employee time / equity to the foundation. Ascend Integrated, being a member of the 1% pledge, was humbled to be mentioned in the Partner keynote and featured on multiple screens throughout the summit. We look forward to continuing to give back our time and improving our community. Learn more about the 1% Pledge and how you your company can contribute: 
here
.
New Logos and Re-Branding
During the summit, Atlassian introduced its new logos which can now be found on your Cloud instance and on the Atlassian website. The corporate logos and the underlying tool logos (JIRA, Confluence, Bamboo, Bitbucket, etc.) were re-designed for the Atlassian Tool Suite moving forward.
Stride
With Slack's continued growth in popularity and its growth in valuation to over $5 billion, Atlassian has responded by creating Stride, a new communication tool aimed at improving the way teams communicate through video chat, IM, voice, organization, and integration. The Atlassian team provided frequent demos of Stride at Summit and had a dedicated stride booth set up in the Summit exhibit floor. You can view the Stride Blog from Atlassian.
New User Interfaces for Cloud Products
The Atlassian Tool Suite for the Atlassian Cloud is getting a face lift. Over the next several months, new user interfaces for many of the tools in the Cloud (specifically Confluence, JIRA Core, JIRA Service Desk, and JIRA Software) will be released. Booths were set up near the entrance of the Exhibit Hall for users and passersby to test and provide feedback for the new user interface. While these new User Interfaces are not making it to the server instances yet, it paves the way for a redesign of the Atlassian User Interface.
Sessions and Classes
Breakout sessions were informative, and provided insight into many aspects of the Atlassian Tool Suite, from tools and techniques used at large tech firms and systems such as Netflix and LinkedIn, to developing custom add-ons, integrations, and improving performance in JIRA and Confluence. You can check out over 10 hours of recorded breakout sessions here…just don't watch them all at once: Wednesday Sessions and Thursday Sessions.
ShipIt Live
The now famous hackathon pits five teams against one another to develop a new tool or feature that works within the Atlassian Tool Suite in a small amount of time. This year, we saw many excellent candidates, but what really impressed was the ability to record and transcribe meetings on-the-fly in Stride. A great way to incorporate new functionality into an excellent new tool developed by Atlassian! Watch it again here: 
ShipIt Live Keynote
.
Will we see you in Barcelona next year (2018)?
We hope you had a great time last week. Find us on Twitter and share your favorite experience at Atlassian Summit. We look forward to seeing everyone again in Barcelona for the 2018 Summit!